Crisis Services
EHN Mental Health Crisis and Emergency Services are available 24-hours, seven days a week for anyone who is having a difficult time coping with life challenges. Services can be accessed at our 1601 Yandell Dr. location or by calling the 24-hour crisis hotline at 915-779-1800 or 988.
LEARN MORE
Addiction Services
EHN offers multiple programs to assist individuals with substance misuse and achieve long term recovery. This includes a Medicated-Assisted Treatment (MAT) Program which uses medication along with counseling and behavioral strategies to help treat substance use disorders.
LEARN MORE
Mental Health Services
EHN provides a wide array of mental health services for adults and children who have schizophrenia, depression, bipolar disorder, substance use disorders and other behavioral health conditions.
LEARN MORE
Counseling Services
EHN offers counseling services for individuals, families, groups, and couples that includes children who may need help with behavioral issues, eating disorders, grief and loss, marriage counseling, PTSD, anxiety, and other challenging life experiences.
LEARN MORE
Developmental Disabilities Services
EHN provides a wide array of services to individuals with different levels of intellectual/developmental disabilities and helps to foster their development and skills needed to live as independently and efficiently as possible.
LEARN MORE
EHN Integrated Primary Care Clinic
Emergence Health Network's Westside Clinic offers Integrated Care that includes a team of primary care and behavioral health providers who coordinate mental health, substance misuse, and primary care services at this one location. Integrated care is the most effective approach to caring for people with co-occurring healthcare needs.
Youth Services
EHN is dedicated to ensuring children have the opportunity to achieve their fullest potential. We accomplish this by providing access to an array of effective high quality mental health and counseling services through partnerships with family members, professionals and the community.
LEARN MORE
Mental Health First Aid
Mental Health First Aid (MHFA) is a free course designed to help participants learn how to respond and assist individuals experiencing a behavioral health concern/crisis.
LEARN MORE
Emergence Health Network (EHN) provides trauma-informed care centered around the needs of individuals with intellectual/developmental disabilities, behavioral health and/or substance use treatment needs. Designated as the Local Mental Health Authority (LMHA) and Local Intellectual/Developmental Disabilities Authority (LIDDA) in El Paso County, EHN offers a wide array of programs at multiple locations throughout the area. EHN is Joint Commission Accredited and recognized as Certified Community Behavioral Health Clinics. 
To learn more about EHN and how we serve our community, check out our EHN 2022 Annual Report by clicking on the following link http://www.ehnannualreport.org
To view the EHN Employee Code of Conduct click HERE
To learn about EHN services or to schedule an appointment call:
To learn about employment opportunities please click below:
Emergence Health Network Videocast/Podcasts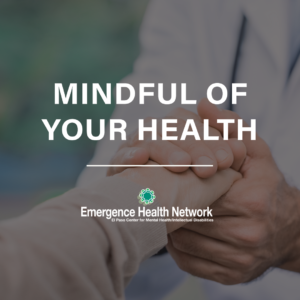 Emergence Health Network is proud to bring you its Mindful of Your Health videocast. Watch and learn about EHN services and hear valuable tips from our experts on a variety of mental health issues. To access the vodcast click on the Learn More button.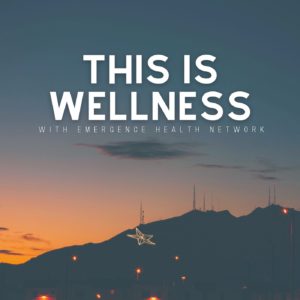 This is Wellness podcast explores a variety of topics aimed at enhancing the mental well-being of you and your family. Season Two is dedicated to all things "real-life" wellness as discussed with our mental health experts. To access the podcast click the Learn More button.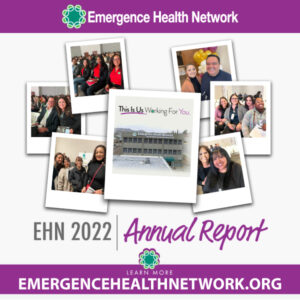 EHN invites you to view its 2022 Annual Report which highlights efforts to strengthen our clinical and community services.
Read More