Crisis and Suicide Prevention24-hour Crisis HotlineAnyone can access the EHN Crisis Hotline any time of the day or night. The hotline is manned by qualified mental health professionals and backed up by on-call professionals who are available to the public 24/7/365. EHN's Crisis Specialists are trained to assist in verbal de-escalation and link individuals who need help to local mental health resources in the community, such as Emergence Health Network's Crisis Intake Unit and Extended Observation Unit.
EHN accredited by the American Association of Suicidology and is also contracted with the National Suicide Prevention Lifeline.
24-hour Extended Observation Unit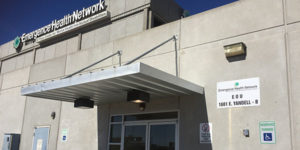 El Paso residents who are experiencing emotional distress or mental health crisis can receive immediate, face-to-face counseling and crisis intervention at the EHN Extended Observation Unit. This Crisis Unit is open 24-hours a day, 7 days a week. The staff at the multi-bed facility provides up to 48 hours of observation and stabilization for individuals who need help coping with life's many emotional challenges or mental illness diagnosis. A psychiatrist is available if immediate medication or psychiatric intervention is needed. This unit is also designed to divert individuals from emergency department utilization and jails to a place where they can receive proper mental health care. Qualified mental health professionals provide or link individuals to those services best suited to their needs. These services may include brief intervention, crisis counseling and support, referral for long-term treatment, and/or referral to the El Paso Psychiatric Center.
Click here for directions to the Observation Units to Crisis Services 1601 Yandell Drive
Crisis Intervention Teams
EHN works closely with local law enforcement agencies to care for members of our community and help to divert those with mental illness away from unnecessary incarceration and into appropriate treatments for their behavioral health needs. Through a partnership with the City of El Paso, El Paso Police Department, El Paso County and El Paso Sheriff's Department EHN has established Crisis Intervention Teams (CIT) involving the co-deployment of EHN's trained mental health professionals and specially training officers who respond to 911 calls involving individuals experiencing a mental health crisis. The teams know how to recognize the signs of a mental health crisis and how to properly respond to the individuals in these situations with the goal of de-escalating the crisis and through continuum of care, routing these individuals into proper care.
Mental Health Community TrainingsThrough a partnership with the Paso Del Norte Health Foundation, EHN provides education in the El Paso community aimed increasing mental health awareness and response with a focus on training in schools, law enforcement agencies and other local organizations. Subjects include suicide prevention, self-harm prevention training, test anxiety education, grief education, and instructing on dealing with anxiety/stress.
Click HERE to learn more.
Outpatient ClinicsEHN operates several outpatient clinics for mental health and/or substance use disorders throughout the El Paso area, two of which have pharmacies located nearby providing convenient access for clients to obtain their medication.
Clinics are available for children and adults and offer a wide array of services to assist in sustained recovery and improved quality of life for those in our community.
Click HERE to learn more including contact details.
Partial Hospitalization Program (PHP)Contact: 915-242-0555Locations: 1551 Montana Ave and 2400 Trawood Ste. 301
Emergence Health Network offers the Partial Hospitalization Program (PHP) for clients with a mental health and/or chemical dependency issues. The PHP provides individuals with the care of a residential treatment program but allows the clients to spend evenings at home. This is beneficial for people who are dealing with problems too severe to be managed in outpatient therapy alone. The program involves a longer treatment visit, usually several hours, than what is typically offered in a doctor's or therapist's office. The controlled environment is often a useful step-down transition from acute inpatient care or an alternative to inpatient treatment.
Intensive Outpatient Program (IOP)Contact: 915-242-0555Locations: 1551 Montana Ave. and 2400 Trawood Ste. 301
Emergence Health Network offers an Intensive Outpatient Program for individuals who need a structured setting to work towards overcoming mental health, behavioral health, and/or a substance use disorder but who do not need the more intensive care offered in the partial hospitalization program. However, the IOP provides a more structured therapeutic setting than what is typically offered in a traditional outpatient setting. The IOP allows the staffs to help clients several times a week for several hours during the day.
Counseling ServicesContact: 915-242-0555Location: Multiple EHN locations
At EHN we are committed to serving the El Paso community's mental health needs. That is why we offer counseling services for individuals, families, groups and couples. This includes children ages 3-17 and adults who may need help with behavioral issues, eating disorders, grief and loss, marriage counseling, PTSD, depression, anxiety, ADHD, LGBTQ, anger issues, family conflict ,self –esteem and other life experiences.
Our licensed clinicians are trained in several therapeutic approaches to serve the community. All EHN therapists are certified in Cognitive Behavioral Therapy (CBT) and reflect the principles of a recovery focused model. Our clinical staff is also trained in EMDR, DBT, TF-CBT, Play Therapy, among other modalities.
CBT is a type of psychotherapeutic treatment that helps patients understand the thoughts and feelings that influence behaviors. CBT is commonly used to treat a wide range of disorders including phobias, addictions, depression, and anxiety.
TF-CBT – Trauma-Focused- Cognitive Behavioral Therapy is a therapeutic intervention designed to help children, adolescents, and their parents overcome the impact of traumatic events. For example, it is designed to help with traumas related to sexual abuse, physical abuse, domestic violence, and community violence, an unexpected death of a loved one, natural disasters, and war.
EMDR (Eye Movement Desensitization and Reprocessing Therapy) is effective for post-traumatic stress. However, clinicians also have reported success using EMDR in the treatment of conditions such as panic attacks, complicated grief, dissociative disorder, disturbing memories, phobias, pain disorders, performance anxiety, stress reduction, addictions, sexual and/or physical abuse, body dysmorphic disorders and personality disorders.
Cognitive processing therapy (CPT) is a manualized therapy used by clinicians to help people recover from posttraumatic stress disorder (PTSD) and related conditions. It includes elements of cognitive behavioral therapy (CBT) treatments. It has proven effective in treating PTSD across a variety of populations, including combat veterans, sexual assault victims, and refugees. CPT can be provided in individual and group treatment formats.
Play therapy is a form of counseling or psychotherapy that uses play to communicate with and help people, especially children, to prevent or resolve psychosocial challenges. This is thought to help them towards better social integration, growth and development, emotional modulation, and trauma resolution.
Parent-Child Interaction Therapy (PCIT) uses very specific, step-by-step, live coached sessions with both the caregiver and the child. PCIT places emphasis on improving the quality of the parent-child relationship and changing negative parent-child interaction patterns. In PCIT, parents are taught specific skills to use with their child to establish, improve, or maintain a nurturing and secure relationship while increasing their child's positive behavior and decreasing negative behavior. PCIT can include multiple siblings and both parents.
Peer support specialists are people in recovery from mental illness who work to help others get well. Peer support specialists are different than therapists or doctors because they have learned about mental illness and recovery, not from a book, but through their own personal experience. Peer support specialists are living proof that recovery is real. Their role at Emergence is to share their experience with clients to inspire and assist with their own recovery.
EHN offers a wide array of peer support services through our certified Mental Health Peer Specialists, Veteran Peer Specialists, Homeless Peer Specialists and Substance Abuse Peer Specialists.
Coordinated Specialty Care (CSC) ProgramContact: 915-242-0555Location: 8730 Boeing Dr.
Through its Coordinated Specialty Care (CSC) Program, EHN has mental health providers specially trained in First-Episode Psychosis Treatment. CSC consumers are provided with psychotherapy, family support and education, medication management, supported employment, housing, and education, along with case management. The use of Coordinated Specialty Care has shown to more effective at reducing symptoms, improving quality of life and increasing involvement in work and school.
First episode psychosis simply refers to the first time someone experiences psychotic symptoms. During this first time episode, an individual may not understand what is happening because the symptoms can be highly disturbing, confusing and unfamiliar.
The word psychosis is used to describe conditions that affect the mind when a person loses contact with reality because of the onset of a mental illness such as schizophrenia, bipolar disorder, and post-traumatic stress disorder. These individuals may hear or see things that others do not. Feel fearful or suspicious of others, have difficulty concentrating, withdrawal from family and friends, and/or have disorganized speech, behavior and/or thoughts.
Of the majority of people who experience psychosis, the first symptoms typically occur between the ages of 16 and 25, yet it is common for a person to have psychotic symptoms for several months, sometimes more than a year. However, reducing this time of untreated psychosis is important for a better recovery.
To learn more about Coordinated Specialty Care click HERETo learn more about Cognitive Behavioral Therapy for Psychosis (CBT) click HERETo view the First Episode Psychosis Family Manual click HEREJail Diversion ServicesContact: 915-242-0555
Direct line: 915-599-6670
Location: 1600 Montana Ave.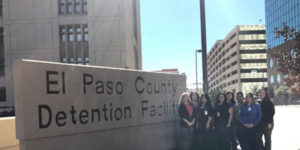 EHN offers a variety of services for individuals involved in the legal system starting from when they are booked into a detention facility in El Paso County, to when they are placed on probation or parole. EHN works to stabilize the individual's mental health with services while incarcerated and when they are back in the community, with the goal of preventing further criminal activity and assisting the individuals with managing their mental health diagnosis.
TCOOMMITexas Correctional Office on Offenders with Medical or Mental Impairments (TCOOMMI) program is designed to monitor, coordinate and implement a continuity of care system for individuals engaged in the legal system. The program involves various levels of service to include intensive and transitional case management to prevent re-arrest and /or incarceration.
Staff ensures an offender's continuity of care by assisting with applications for programs, scheduling appointments with community providers for post-release medical care and support services, as well as providing post-release case management services.
Components of case management include rehabilitation/psychosocial services, substance abuse treatment, psychiatric services, and medication monitoring.
Outpatient Competency Restoration (OCR) Program
The OCR Program provides competency restoration and rehabilitation services to individuals involved in the legal system as well as intensive case management and community integration.
Multi-Systemic Therapy (MST)
Multi-Systemic Therapy is offered to juvenile offenders dealing with a behavioral health problem. The service provides comprehensive outreach to address variables such as family, school, and peer groups. Utilizing these supports ensures results can be sustained after completion of treatment. All services are directed towards the adolescent remaining in the community. Treatment is provided in the youth's home, as opposed to traditional in-office settings. To learn more about the EHN MST program click HERE
Veteran One Stop Center
Contact: 915-242-0555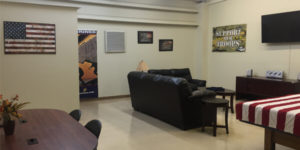 The El Paso Veterans One Stop Center was created to help veterans and their families accelerate their access to support services at a a centralized location. Clinical services provided by a licensed mental health professional include counseling, Post- Traumatic Stress Disorder (PTSD) services, peer support, marriage, couples and family therapy, anger management, linkages to community veterans services, support, trainings and enhancement programs.
Programs include stigma reduction trainings for veterans, service members, families and individuals who work with the military. This program is supported by grants from the Texas Health and Human Services Department.
Children & Adolescent ServicesContact: 915-242-0555Location: 8500 Boeing Drive
EHN offers a wide array of services through its child and adolescent clinic to assist youth with behavioral health challenges. This includes counseling, Autism therapy, playroom therapy, and coordinated specialty care which is beneficial for those experiencing first episode psychosis. Through its Multi-Systemic Therapy program justice involved youth learn skills needed to stay in school and avoid re-arrests.
Through the Children Adolescent Mental Health Program (ChAMHPs) EHN provides mental health services for children and adolescents who suffer from a variety of emotional disturbances which cause emotional and/or social disability. This includes individual and family counseling, substance use disorder recovery treatment, medication management, case management and skills training/development.
In addition, EHN provides assistance through our Youth Empowerment Services (YES) program which is a Medicaid home and community-based service waiver that assists children and adolescents with severe emotional disturbances with the goal of keeping them in the community, living with their families.
EHN offers addiction screening services as well, free of charge to any Texas resident 13-years and older through its Screening, Assessment and Referral (OSAR) program.
Homeless AssistanceContact: 915-887-3416Location: 1600 Montana Ave.
Email: vnoriega@ehnelpaso.org
EHN offers supported housing for individuals who are displaced and have been diagnosed with a mental health disorder through our Housing and Urban Development (HUD) Unit.
Siesta Gardens:
Permanent housing program (site based 9009 Dyer)
Serves to assist those who are chronically homeless – homeless for one continuous year or 4 episodes in the three years
Must meet our priority population
Must be residing in the streets or a place not meant for human habitation, a car, abandoned building or in an emergency shelter.
LOC 3 services are provided.
Permanent Supported Housing programs:
these are permanent housing programs (scattered site).
Must meet our priority population and currently be homeless.
Must be residing in the streets or a place not meant for human habitation, a car, abandoned building or in an emergency shelter.
LOC 3 services are provided.
Rapid Rehousing:
this is a housing program and is medium term (4-24 months) and will assist those who are homeless.
Must meet our priority population
Must be residing in the streets or a place not meant for human habitation, a car, abandoned building or in an emergency shelter.
LOC 3 services are provided.
ESG Street Outreach:
this program will assist anyone who is residing in the streets and provide referrals, information, education, transportation, food and hygiene products
for Mental Health needs – Must meet our priority population or be experiencing mental health symptoms
LOC 3 services are provided
HHSC Supported Housing Rental Assistance
this program will assist anyone who is facing an eviction due to non-payment or utility disconnection
Will assist those who are exiting a state funded psychiatric hospital who may be facing an eviction, or is currently homeless
Will assist with up to 1 year of rental assistance and/or utility payments
Must be enrolled in an outpatient clinic and receiving services
The objective of the ACT Team is to reduce inpatient admissions and to increase the quality of life of individuals who historically have difficulty remaining in a community setting. The EHN ACT Team provides aggressive intervention with consumers, family members, and service providers. The team provides an array of services, including medication monitoring, symptom management skills training, advocacy, coordination of services, and community-based hospitalization for consumers assigned to the unit. In addition to their normal hours of operation, team members remain "on-call" to provide intervention 24 hours a day if needed.
START (Systemic, Therapeutic, Assessment, Resources and Treatment) is a person-centered solution-focused approach that employs positive psychology and other evidence-based practices. It's a national initiative that strengthens efficiencies and service outcomes for individuals with intellectual/developmental disabilities and mental/behavior health needs in the community. The model helps reduce the use of emergency services and state facility/hospital stays.
Click HERE to learn more about the EHN START Program.
Outcomes also include:
High rates of satisfaction by families and care recipients
Cost-effective service delivery
Improved expertise across system of care
Strengthened systems linkages that enrich systems, increase resources and fill in service gaps
Increased professional and logistic linkages between services providers in multiple disciplines
Use of community services whenever possible